Air Conditioning Service Kansas City, MO & KS
---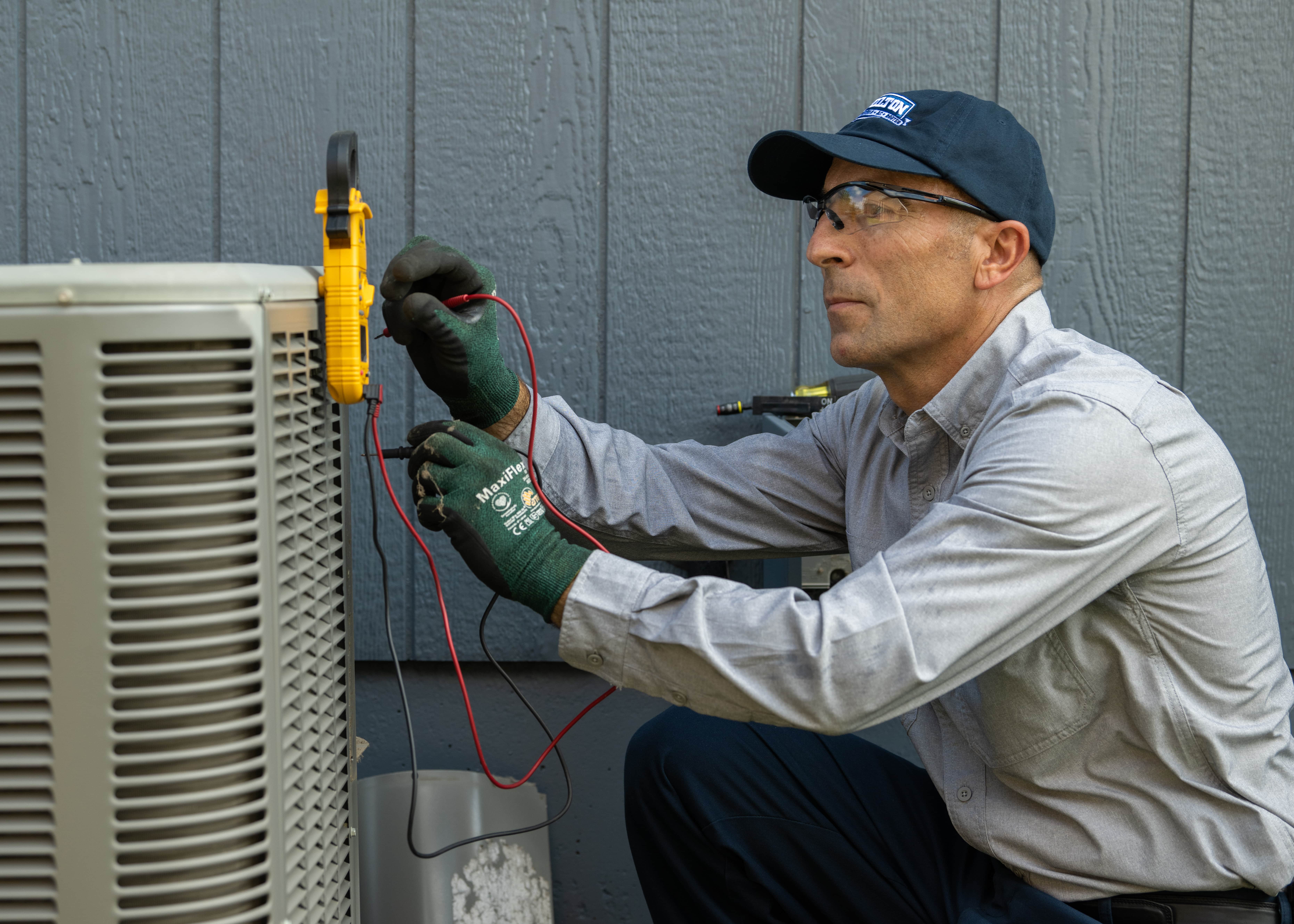 Kansas City Residential Air Conditioning Repair and Replacement
When you need air conditioning repair and replacement in the greater Kansas City area, you want the best. You need an A/C system that will run efficiently and will keep your home cool when it's hot out. Our air conditioning services have your needs covered.
Schedule Your Air Conditioning Service
Why Choose Hamilton
As of the fall of 2023, Hamilton Plumbing, Heating, A/C & Rooter has combined forces with Roger the Plumber. We have over 40 years of experience, and over 90 experienced technicians, plumbers, and electricians to handle whatever home service needs you may have! 
But don't just take our word for it. We have over 8,000 five-star reviews from satisfied customers just like you. Plus, all of our work is backed by our Exceptional Service Guarantee. If you're not happy, we will make it right. Guaranteed. 
Our Eco-Friendly Service
We strongly believe in protecting the environment and utilizing greener solutions for air conditioning, whether it's new installation or repairs. Not only will a more energy-efficient A/C system save you money over the long run, but the eco-friendly approach is better for your health and the health of the world around you.
There are several factors that go into energy-efficient and eco-friendly air conditioning systems. Units with two-stage compressors can be much more effective than ones with older single-stage compressors. The compressor is where a majority of the electricity is used in an air conditioner, so the harder it has to work, the more energy it will burn. Two-stage compressors reduce compression automatically on cool days and expand as needed on warmer days, which saves a lot of energy.
When we are installing, servicing or repairing an air conditioning system, we perform a thorough review of the property to make sure everything is working as well as possible. Sometimes, air conditioning units are too small to properly cool a home and they end up wasting more energy because they have to work harder to pump out so much cool air. Clean vents and filters will also affect the overall performance, so those are standard maintenance services we recommend at least annually along with other routine maintenance services.
Of course, your thermostat will also have a significant impact on the energy efficiency of your air conditioning unit. Today's programmable thermostats are amazing and enable you to automatically save a ton of energy. They are easy to set to match your daily schedule. This keeps energy from being used unnecessarily when you don't need the A/C to be running.
Whenever we install a new air conditioning system for a client, our expert Kansas City-based HVAC technicians will seek out custom eco-friendly solutions that will achieve the best performance and ideal energy efficiency. Our goal is to save you money over time while also embracing a greener approach to air conditioning.
Importance of Routine Air Conditioning Maintenance
No matter what type of A/C wall unit or central cooling system you have, it needs regular maintenance. We recommend servicing it at least once a year. This will keep your air conditioning unit functioning properly and running at maximum energy efficiency when you need it most.
There are many routine maintenance services that we recommend and offer. First, you want to have a fresh air conditioner filter installed. Ducts and vents should be regularly cleaned and inspected to make sure there are no leaks or obstructions. The air conditioner coils, coil fins and condensate drains should all be properly inspected, as well.
These services are all standard with our annual routine maintenance program, along with several other vital steps that we take. We always check to make sure the correct amount of refrigerant is in the system and test for any refrigerant leaks. Thorough testing of the thermostat and proper measurement of the airflow and temperatures from all vents are also completed to ensure everything is working correctly and that cool air is being distributed equally throughout the home.
We also inspect internal components and mechanical issues in order to keep the unit functioning at its best. This includes inspecting electric terminals, cleaning and tightening all connections, applying a non-conductive coating (if needed), and checking motors and belts.
Routine air conditioning maintenance is very important. There are so many things that can affect how your system performs. You could be wasting energy or just not getting the most out of your A/C unit. When this happens, it's bad for your wallet and can be bad for the environment, as well.
Our air conditioning services are designed to optimize your system's performance, save you money on your energy bills and strive for a greener way of life. Contact us today for more information about eco-friendly air conditioning solutions or to schedule an air conditioning service appointment.