Furnace Repair in Kansas City, MO & KS
---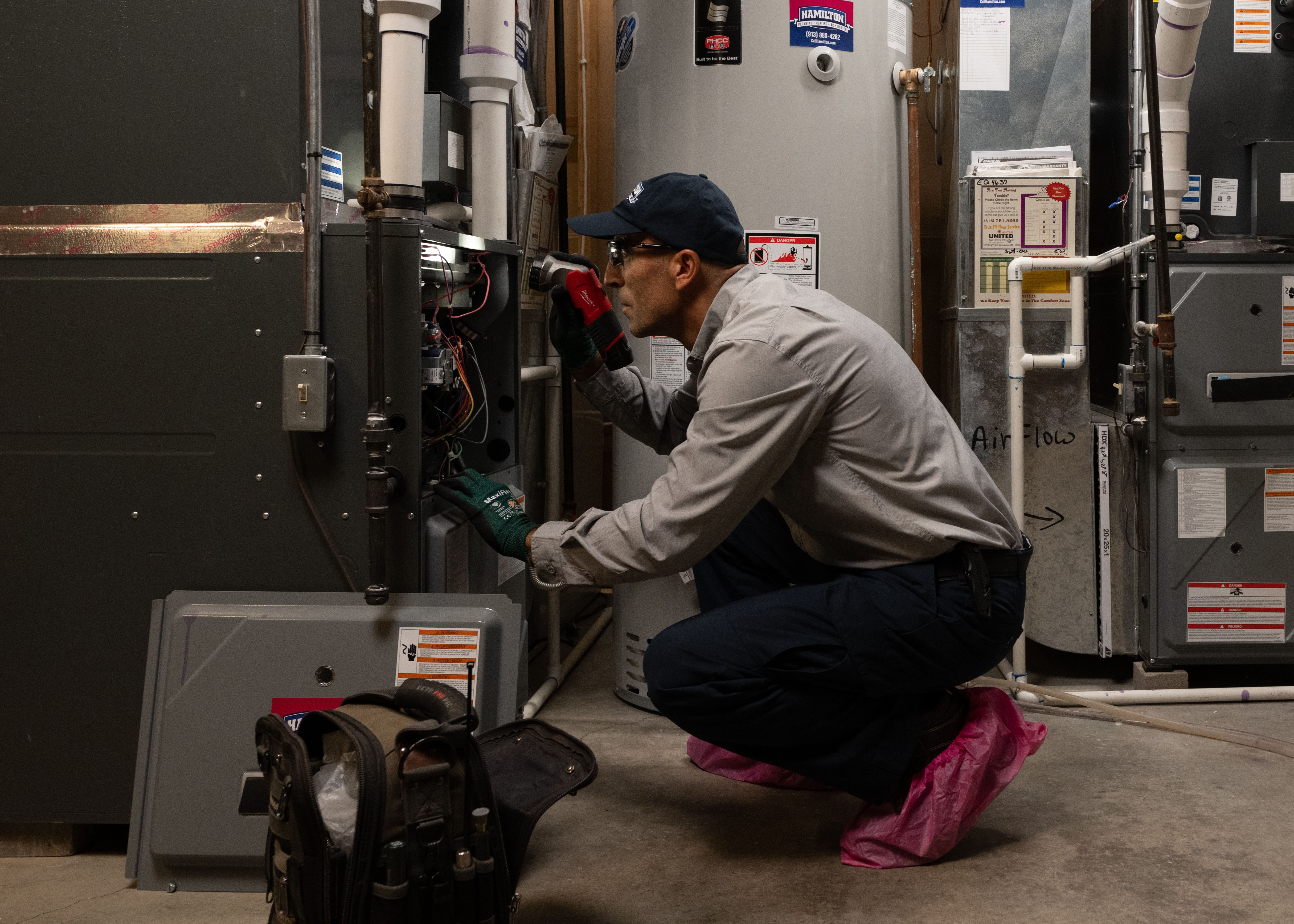 NEED FURNACE REPAIR? IT'S TIME TO CALL HAMILTON.
Our trained NATE-certified technicians are skilled in providing you with prompt and professional and affordable heating and furnace repair service in Kansas City Kansas and Missouri. We arrive on time, carefully listen to your concerns and review your furnace repair options with you. Plus, our No Surprise Pricing means the HVAC repair price we quote is the price you pay. No more!
Schedule Your Furnace Repair!
STAY WARM ALL WINTER LONG
At Hamilton Plumbing, Heating, A/C & Rooter, we're committed to keeping you and your family comfortable all year long – even on the coldest of winter nights. Our Pro Service Plan is your guarantee that your Kansas City heat pump or furnace and air conditioning system will be running at peak efficiency and safety all season long. You'll get priority Kansas City heating and cooling service so your problem gets fixed fast. Yes, we'll bump you to the head of the line no matter how cold or how busy we are! Only Hamilton Plumbing, Heating, A/C & Rooter can offer that kind of peace of mind. For more information or to sign up, click here!
KEEP YOUR HOME WARM AND SAFE ALL WINTER
Kansas City is no stranger to extreme winter weather. For example, there's the cold snap that hit the city on December 23, 1989, which saw the temperature plunge down to 23 degrees below zero. Even when it doesn't get that cold, frigid conditions can cause your home's heating system to work much harder to keep you comfortable. This puts a lot of wear and tear on your equipment, causing it to wear out faster and lose efficiency, if it doesn't just break down altogether.
Not only can this lead to costly repairs, but also higher utility bills. If your furnace isn't kept in good working order with regular furnace maintenance from experienced technicians, its lower efficiency means it burns more fuel and increases the amount you'll have to pay each month. For these reasons and more, it pays to work with one of the best furnace repair companies in the area, and that's exactly what we offer at Hamilton.
With the help of our furnace repair in Kansas City, you and your family can rest assured your system will be able to handle the winter weather. Our experienced professionals provide expert furnace repair and maintenance to keep everything working as well as it should. We have the knowledge and know-how needed to identify any issues and resolve them before they have the chance to become much bigger problems. Our heating system repair capabilities also include routine maintenance such as cleaning or replacing filters. This ensures your system will be as efficient and effective as possible, and also means you will get the longest possible lifespan from your equipment.
The average temperature in Kansas during the winter is about 31 degrees. Even though that's mild compared to some parts of the country, it still can be extremely uncomfortable and even dangerous without a reliable heating system. Fortunately, Hamilton Plumbing, Heating, A/C & Rooter furnace repair services are at your disposal to keep you and everyone else in your home from feeling the chill.
SCHEDULE YOUR KANSAS CITY FURNACE REPAIR
Before the next extreme cold snap strikes, it's important to know where to turn for comprehensive repair and maintenance capabilities so you can face the cold with confidence. We have the experience and skill to provide you with the highest levels of service and the overall best outcomes no matter what we do for you. Call us today at 913-227-4943 or schedule your repair service online today!
Schedule Your Furnace Repair!