Furnace Installation in Kansas City, MO & KS
---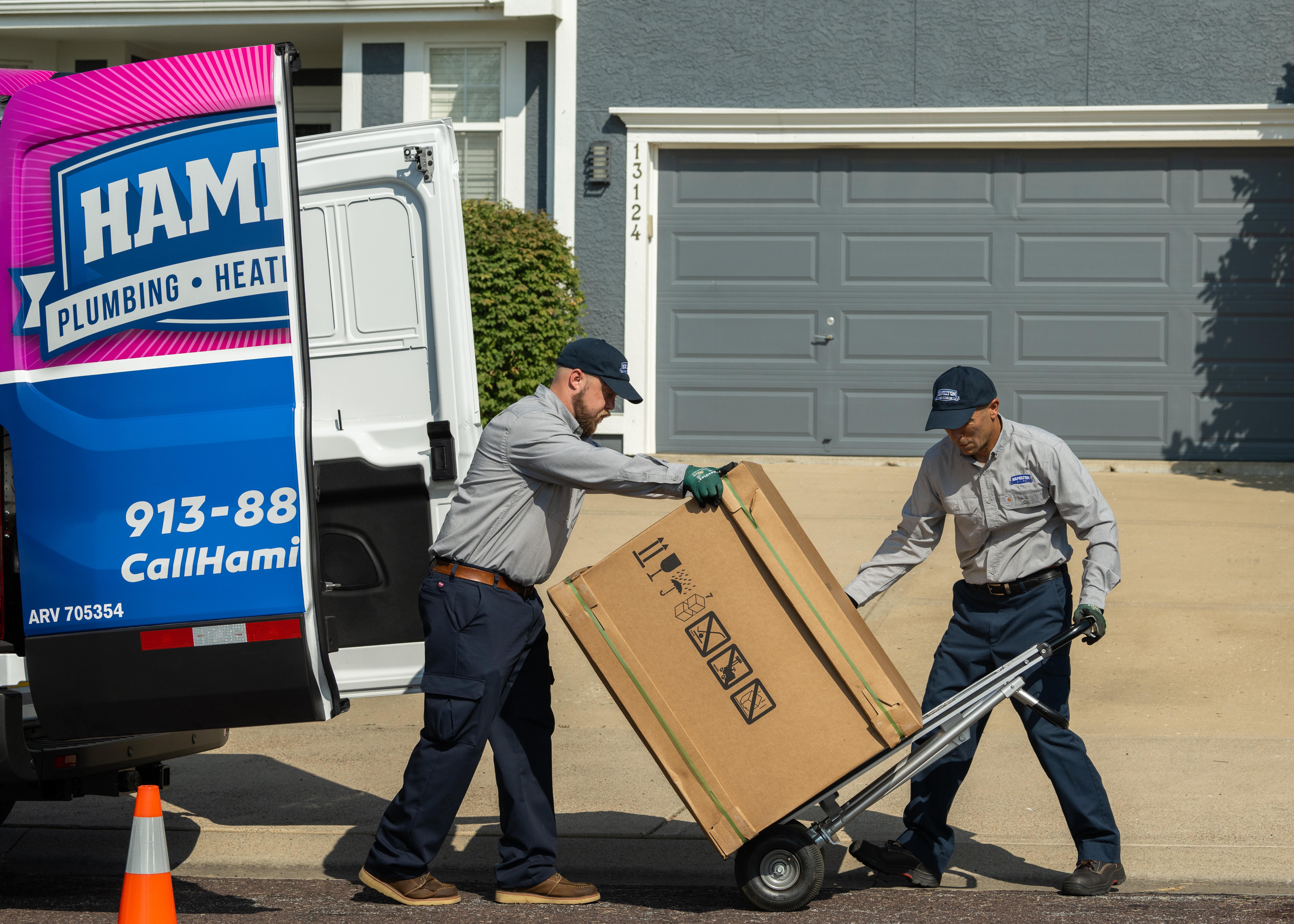 Have a look at your old furnace. Is it trying to tell you something? You bet it is! It's saying it's old, inefficient and needs to be replaced.
Now, have a look at your energy bill. Pretty shocking, isn't it? Just imagine the pleasant shock when your energy bills are cut by nearly half. Sounds pretty good, huh?
Hamilton Plumbing, Heating, A/C & Rooter can install a new high efficiency furnace that will save you a considerable amount of money every month. It's true! And, with energy prices going through the roof it only makes sense to make the switch. Many of our units even qualify for tax breaks to save you even more money.
Along with saving you money, Hamilton gives you peace of mind knowing that your new furnace installation is backed by an honest, trustworthy company. We've been here for 35 years and we're not going anywhere.
We'll carefully assess your home, your comfort needs, your budget and we'll even consider indoor air quality issues to make sure your new system meets your expectations for comfort and energy savings.
PACE FINANCING FINANCING FOR ENERGY EFFICIENT FURNACE INSTALLATION IN KANSAS CITY
Our furnace installations increase home efficiency in Kansas City. These efficiency gains are good for the environment and decrease energy consumption.
PACE Financing helps make energy-efficient upgrades possible for homeowners, and Hamilton is proud to be a licensed dealer in Kansas City.
Click here to find out more about the program, and be sure to ask us about PACE Financing options for your new furnace installation!
THE MOST IMPORTANT DAY IN THE LIFE OF A FURNACE IS THE DAY IT'S INSTALLED
First and foremost, Hamilton NATE Certified technicians are experts in the installation of your new furnace. Our installation process includes careful calibration for comfort, safety and energy savings.
We'll care for your home as if it were our own. We'll use work mats, wear shoe covers and when the installation is completed we'll haul away the old unit and completely clean the work area. You'll never know we were there, except for the beautiful, new furnace we leave behind.
Don't be surprised when you get a call from us following up to make sure you are happy with our people, our products and our installation. Your 100% satisfaction is guaranteed!
Call For Guaranteed Service!
GET EXPERT KANSAS CITY HEAT PUMP INSTALLATION
Whether it's the hottest day of summer or the coldest winter day, heat pumps are a great home comfort system as they do the job of an air conditioner and a furnace. Unlike a furnace, a heat pump doesn't burn fuel to heat your home. It uses electricity to heat your home in the winter and keep it cool in the summer.
Today's heat pumps feature advanced technology and options to provide you and your family with quiet, energy efficient and comfortable heating and cooling. There are even hybrid heat pumps that allow you to respond to unpredictable utility costs by switching from gas and electric heat, this is an economical option for homes with gas and electricity.
At Hamilton Plumbing, Heating, A/C & Rooter we are the area's leading heat pump authority and we'd be happy to explain all benefits heat pumps provide and help determine which system will properly heat and cool your home . . . while saving you a lot of money on your utility bills.
Call our team today at 913-227-4943 or schedule an appointment online today!