Everything You Need to Know Before Your Furnace Installation
August 22, 2023
---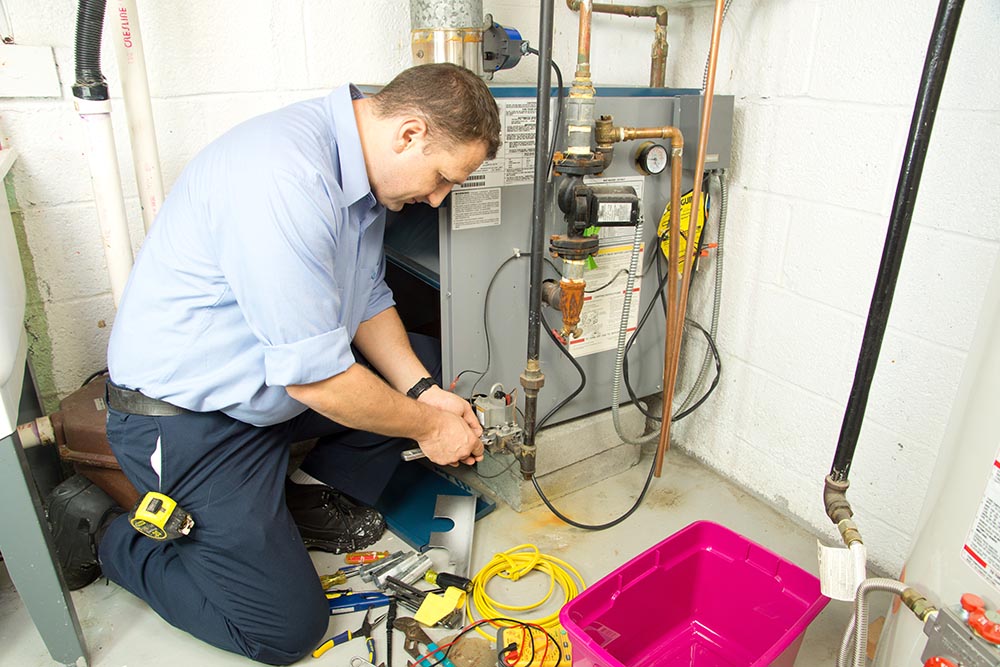 Getting a new furnace is a big investment and a big home improvement job. Before jumping at the first furnace that looks your way, you'll need to do some homework. The first and most helpful thing a homeowner can do is to ask the advice of an expert. They will be able to answer any questions you might have and guide you to find the best furnace for your home, your needs, and your budget. So, before you run out and get the new furnace, here are a few guidelines to help you make a more informed decision before a new furnace installation.
Inspect First
The department of energy has found that furnaces should last between 15 and 17 years depending upon a few different factors. If your furnace is on its last leg, then you likely have already had an expert (or two!) in to look at the furnace. Similar to a vehicle, maintenance is essential to a properly working furnace. In keeping with that analogy, at a certain point the money that you will need to invest in order to keep your current furnace operational will meet or exceed the amount you would be spending for a new high efficiency furnace.
Safety
You should also consider the safety issues that come with having a furnace that is no longer operating properly. Poor installation or failure to perform routine maintenance on your furnace can lead to severe issues that are not an easy or cheap fix. A failed blower motor can lead to the system repeatedly turning on and off (oftentimes referred to as short-cycling), odd noises, or the furnace turning off and refusing to come back on. A cracked heat exchanger can lead to headaches, questionable smells, watery eyes, and high levels of carbon monoxide (CO) or even death.
High Efficiency
If you are replacing an older furnace, you may be surprised to find that furnaces have advanced quite a bit with technology. Be prepared to ask a lot of questions. High-efficiency furnaces will save you a lot more money in the long run. They work smarter by using less energy and they often are quieter than those old dinosaur furnaces. Many furnaces and HVAC systems are now compatible with programmable smart thermostats that can help save money and energy. These smart thermostats can learn your schedule so that the system knows when you are home and when you are at work and adjusts the temperature accordingly.
Add-ons
Similar to the smart thermostat mentioned above, there are many new products out there that are designed to make your home more welcoming and make your life easier. Did you know that you can have a humidifier installed to make the air in your home less dry? If you suffer from bloody noses or dry and itchy skin, a whole home humidifier would be a great add-on for you. Do you have a lot of plants? A humidifier would be extremely beneficial for them and would lead to maximum growth.
If you have pets, allergies, or are immunocompromised, a UV light filtration system is the number one add-on you should consider.
Bigger doesn't always mean Better
Make sure the furnace you get will suit the heating needs of your home. Moving up a size or two can be more expensive, will increase your energy bill, and it may not even fit in your home. When you have an expert out be sure to ask them what size of furnace you currently have and what their home needs.
An informed expert will perform a heat load calculation that will make sure you are getting exactly what you need. A heat load calculation looks for the amount of heat energy that is needed to maintain an acceptable temperature in the home.
Make sure you get the correct type of furnace you need. If you are considering changing fuel sources, such as from gas to electrical, be sure to mention that before you make a decision on the furnace. Ask about the furnaces that allow you to switch back and forth between sources.
Get your Ducts in a Row
A comfort consultant should check out the ductwork while they are reviewing the new furnace options. The ductwork should be clean, functional, and the correct size. Ductwork can be repaired or replaced before the new furnace is installed. This will actually have a big influence on how well your new furnace will work. If there are leaks, holes, or damage, it is better to know that in advance.
The Installation
The brand of furnace you buy is important, but it will only live up to its reputation if it is installed correctly. We offer Rheem, Carrier, and Lennox furnaces, and can get any other brand the supply warehouses have available. Using a handyman and YouTube to install your furnace just might come with some issues. Are they going to install a new furnace and hook it up to all the old ductwork? It has been proven that the most important factor in the longevity of your system is the care that was taken to install the unit.
Be sure to have your comfort consultant talk to you about what processes the company follows to make sure that all factory guidelines are followed, permits are pulled to provide third party verification of a job well done, and how they will make sure you receive the perfect installation.
Your technicians should be certified and experienced. Finding a deal at a big box store might seem like a good idea, but a reputable dealer who will get you the best furnace and guarantee the installation is really the best bang for your buck.
The installers should also start the system up and let it run while they are cleaning up to ensure that there are no issues. Your installer should remove the old furnace and ductwork and clean up after themselves. Here at Hamilton Plumbing Heating A/C Rooter, we follow the campsite ruleleave it as you found it! Additionally, they should walk you through how to operate the thermostat, humidifier, etc. Any and all questions should be addressed before they leave.
Warranty
Always make sure you have a clear understanding of your warranty. You'll want to know what it means for your new furnace: how long it will last, what it covers, and if there are any stipulations. Does the warranty cover parts & labor if something does go wrong? Is there a manufacturer warranty available as well? Oftentimes, your warranty will require you to have regular checks and maintenance done on your system, which is something we talk about below.
Your warranty may also be voided if you make any repairs or adjustments to the furnace yourself, damage it trying to fix something, or if another company works on the furnace. If your basement floods or if there is a sewer backup, that can damage the furnace and will void the warranty.
Maintenance
This is not a set it and forget it type of installation. Make sure you also discuss maintenance on your new furnace with the comfort consultant. You want it to last another 10+ years!
With the Hamilton Pro Service Plan, you receive 2 HVAC checks a year, once in the spring and once in the fall. These are essential to making sure your furnace remains operating at peak efficiency.
Contact the professionals at Hamilton Plumbing Heating A/C Rooter. They can guide you through every step of your new furnace installation and make sure you get the best options for your family, your home, and your future. From inspection to furnace installation, we can provide all the answers. Questions? Call us today at (913) 227-4943
Last Updated: August 22, 2023