Air Conditioning Repair Kansas City, MO & KS
---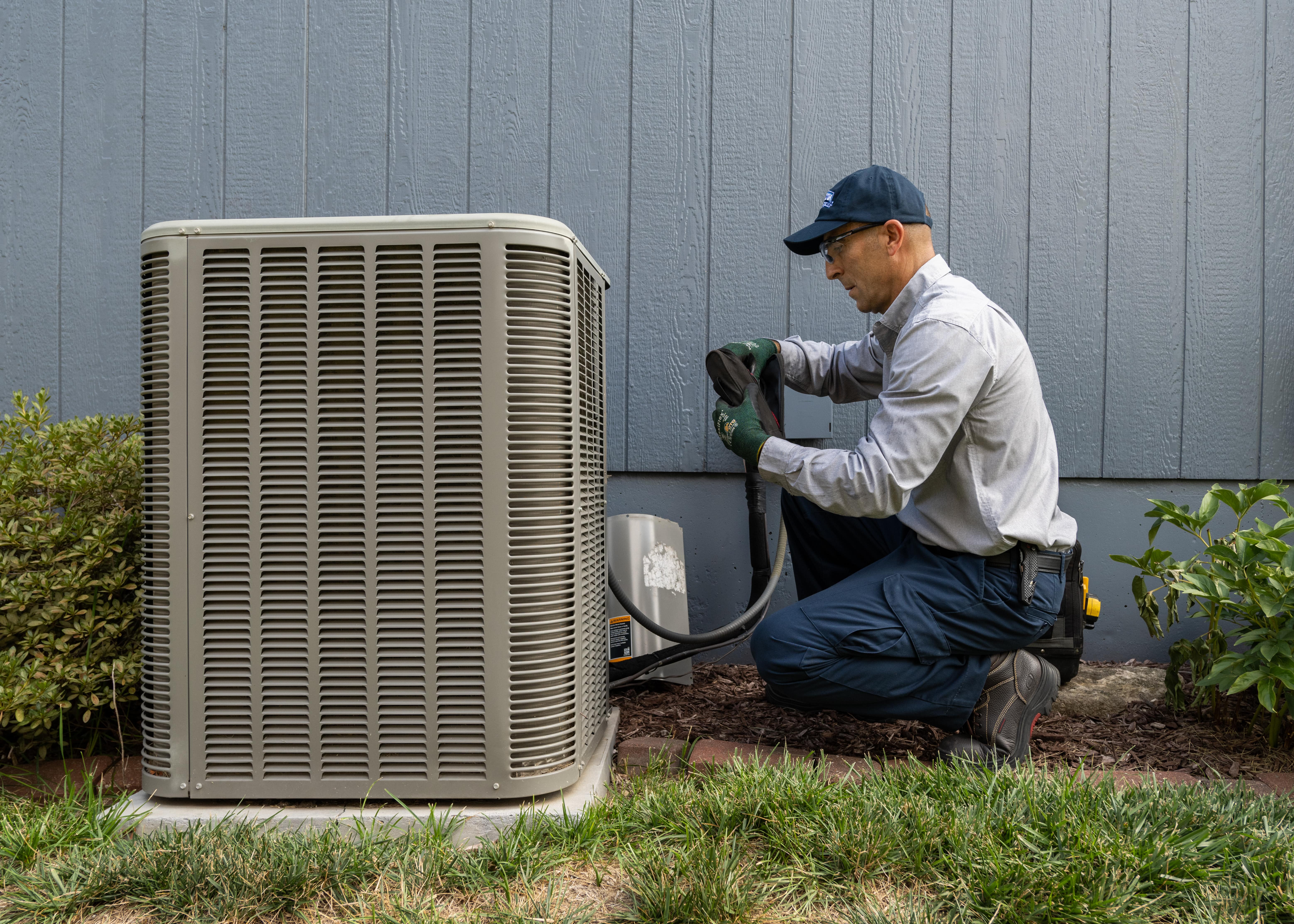 Don't delay an air conditioning repair! Call Hamilton Plumbing, Heating, A/C & Rooter for incredible, long-lasting service today.
The summers in Kansas City can be extremely hot and humid. Between May 31 and September 16, residents can expect an average high of 91°F and a low of 70°F. With humidity levels reaching as high as 90%, the sweltering heat can feel much worse. The EPA recommends a relative humidity level between 30% and 50% for ideal comfort, which is achievable with efficient air conditioners that dehumidify the air in your home.
Get Your Air Conditioner Fixed!
Benefits of Air Conditioning Repair
Air Quality
Your AC is essential for regulating the indoor temperature and humidity, as well as the quality of the air inside your house. When your AC doesn't work as well as it should, you and your family could experience discomfort as well as a range of potential health problems, including headaches and fatigue.
A properly working AC system helps keep mold, mildew, and other airborne pollutants at bay. Without it, you could experience respiratory issues, allergies, and other illnesses.
Cutting Costs
If your AC unit doesn't perform at optimal levels, you may see higher utility bills since your HVAC system has to consume more energy to keep up with the weather outside. Call us for air conditioning repair services before small problems become much bigger ones.
Signs Your Air Conditioning is in Need of Repair
If you notice any of the following warning signs, get in touch with us right away for expert AC repair services
Unusual sounds, such as rattling, grinding, or squealing. Any of these could be a sign of loose components, a failing compressor or a malfunctioning fan. If you ignore these noises, you might be in for more serious issues and costly repairs in the future.
Weaker-than-usual air flow coming from your vents. This could indicate a clogged air filter, issues with the fan, or a refrigerant leak. Any of these problems may be causing your AC unit to work harder than usual, resulting in decreased efficiency and higher energy bills.
Warm air coming from your registers instead of cool air. This means you might be having trouble with your compressor or your refrigerant level. This can be more than an inconvenience — it could indicate there are serious issues with your system that should be handled as soon as possible.
Your energy bills have skyrocketed suddenly. Your AC system may be suffering from efficiency problems. If your HVAC system has issues, it could be working too hard to cool the air, drawing much more power than usual and putting excessive wear and tear on the components. This is another warning sign you shouldn't ignore.
Air Conditioning Repair Services
Detailed Inspection Of The Entire Unit
Every air conditioner repair and service begins with a thorough inspection of the entire unit. Our HVAC technicians check every key component, such as the fan motor, thermostat, condenser unit, and evaporator unit for signs of damage or excessive wear and tear. If the inspection reveals any issues with the key component, our professional HVAC technician will explain the cause and suggest repair or replacement.
Drain Cleaning And Leakage Check
If the air conditioning unit is showing signs of water leakage, the technician will begin by identifying the root cause and share this information with the homeowner before recommending repair. AC leakage may occur anywhere in the pipes or tubes. Addressing leakage issues will also involve cleaning the drains and removing any dirt or blockages, if present.
Coolant Level Check
Coolant plays a key role in cooling the warm air that is brought into the system. Low levels of coolant can cause the system to blow warm air into the home. Our HVAC technician will ensure the coolant in the cooling and evaporator coils is at the right level.
Air Filter And Fin Cleaning
Over time, the air filter accumulates dust, dirt, pollen, and other contaminants. As a result, the AC system can form ice, keeping the system from properly cooling the home and reducing air quality.
During the air conditioning repair, the technician will clean or replace these filters to ensure clean air is able to flow through freely. The technician will also wash and rinse the condenser fins to remove any mold or dust buildup that may accumulate over time.
AC Condenser And Evaporator Coil Cleaning
Dust and dirt is the number one enemy of the HVAC system. That's why professional cleaning service is key to preventing breakdown and maintaining efficiency. During air conditioning repair in Kansas City, our HVAC technicians will clean the AC condenser and evaporator coils to remove all traces of dust, dirt, and debris. This will help the AC system work properly and efficiently.
AC Condenser And Evaporator Fan Cleaning
Hamilton Plumbing, Heating, A/C & Rooter air conditioning repair service also includes thoroughly cleaning the condenser and evaporator fan blades. This will help address any issues being caused by a malfunctioning condenser or evaporator fan.
Call Hamilton Plumbing, Heating, A/C & Rooter Today
If you are experiencing any of the above warning signs, you need an experienced air conditioning contractor who can help you resolve them. As the area's leader in air conditioning expertise, Hamilton Plumbing, Heating, A/C & Rooter is your best bet. Our trained and experienced professionals know what it takes to keep your equipment in good condition and boost its performance.
With our No Surprises Pricing – the price we quote is the price you pay. There are never any unexpected charges or additions—even if the work takes longer than expected. All air conditioner repair work and your satisfaction is guaranteed 100%.
Keep your cool, call Hamilton Plumbing, Heating, A/C & Rooter for comprehensive air conditioner servicing today!
Contact Our Professionals Today!