Electrical Repair Service in Kansas City, MO & KS
---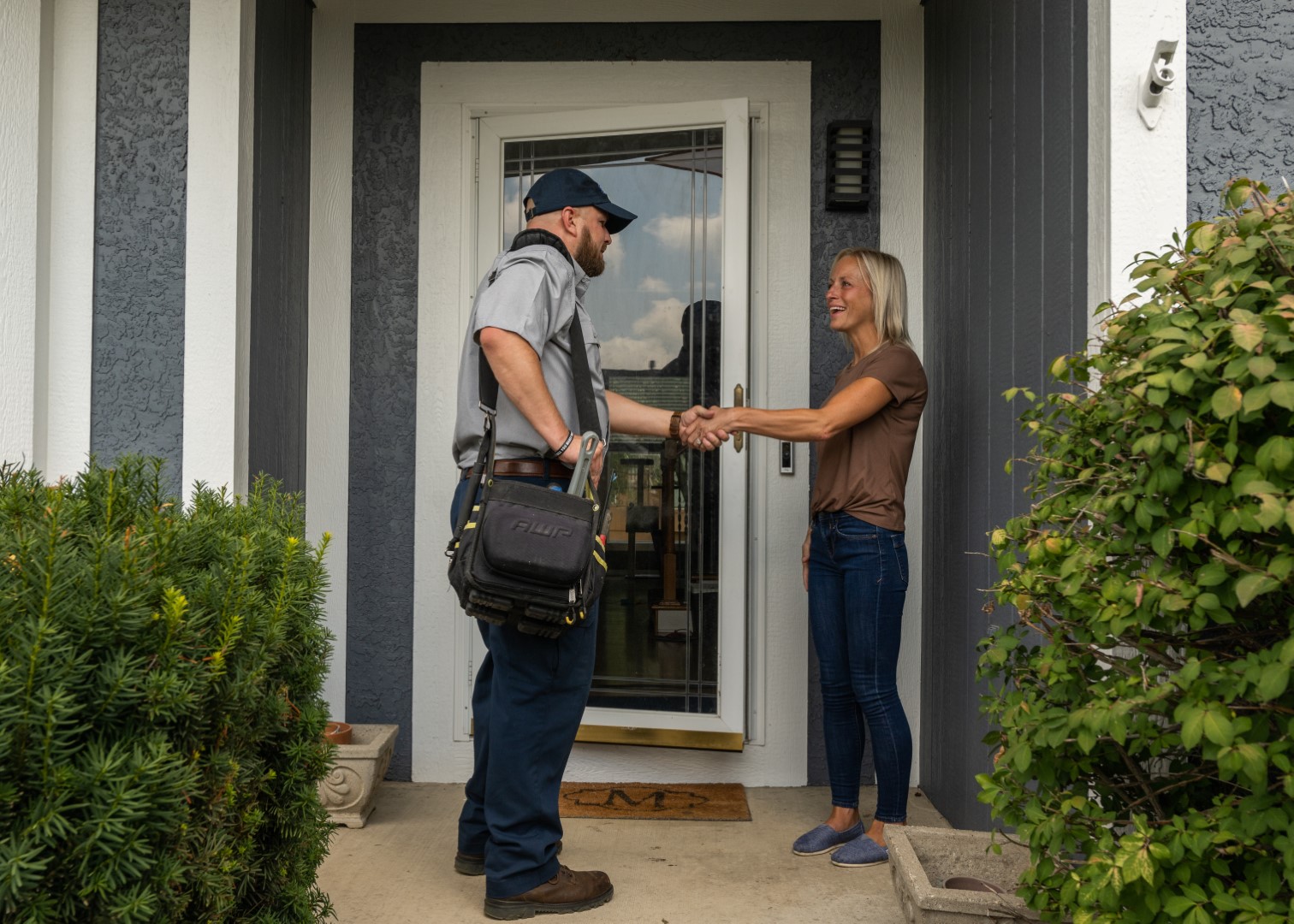 Searching for electricians in Kansas City? Hamilton Plumbing, Heating, A/C & Rooter has you covered. Keeping your home and family safe is always a priority. Electrical problems can be very tricky and you have to be careful to choose an electrician who will make accurate, long-lasting electrical repairs in your home. Have a licensed professional electrician perform inspections and electrical repair service to ensure that your home's electrical system is in good hands.
Our residential electricians are licensed and insured to handle any problems that your home may have in a safe way, giving you the peace of mind you need.
Schedule Your Electrical Repair!
OUR ELECTRICIANS WILL REPAIR, UPGRADE, AND INSTALL ANYTHING YOUR HOME NEEDS
You can count on us to wire your home correctly and take care of any electrical need including:
Electrical Panel Upgrades
Electrical Wiring Install
Install/Repair Ceiling Fans
Install Light Fixtures
Install/Repair Attic Fans
Install/Repair Bathroom Fans
Install Generators
Install/Repair Switch
Home Automation System
Custom Remodels
AND MORE!
Know your home is safe from electrical problems and call Hamilton at 913-227-4943 today!
ELECTRICAL SAFETY TIPS
It's always important to exercise caution when near electrical hazards. If you're not careful, you may suffer shocks, burns, electrocution and even death. Follow these tips to keep yourself safe around electrical systems:
Overhead wires should always be assumed to be dangerous, so you should never attempt to touch a wire even if it appears to be safe to do so.
If you're on the road when a power line falls across your vehicle, do not get out. Continue driving away from the line. As soon as you can, call 911 or the local electric utility provider.
Do not operate electrical equipment if you are standing in or near water.
Don't try to repair electrical systems unless you have the proper experience and qualifications.
Always exercise extreme caution when working near electrical sources.
Schedule Your Electrical Repair!

Frequently Asked Questions
Why should I hire professionals for electrical repairs at my home?
Working on electrical systems can be extremely dangerous without the proper training and expertise. Trying to handle repairs on your own puts you at risk of serious injury or even death. Our professionals come equipped with all the experience and equipment necessary to provide electrical repair services on your systems as safely and effectively as possible.
What are the risks of attempting to make electrical repairs myself?
In addition to the dangers of potential electrocution, working on electrical systems without experience can lead to fires and other damage to your home. We recommend calling professional electrical contractors to take care of this type of work.
How do I know if I need electrical repair?
Some of the most common signs of electrical trouble include frequent outages, tripping circuit breakers, outlets that don't work and flickering lights.
What should I look for in an electrical repair company?
You should make sure the electrical company you choose is licensed and insured, with a strong reputation for good customer service and quality work. You also need to ask about pricing and whether the company guarantees its work.
Can't I just fix small electrical problems myself?
Even seemingly small issues can bring serious safety hazards. Trying to fix any problems yourself can lead to costly mistakes and potential dangers.
How much does electrical repair cost?
How much your project will cost depends on a number of factors, including the nature and severity of the problem. Always ask for a clear estimate from an electrician, and beware of those that offer prices that seem too low. This could be a sign of subpar work or unexpected fees.
Why is it important to hire a licensed electrician for electrical repairs?
Only licensed professionals have the training and expertise necessary to take care of your home's electrical systems as safely and effectively as possible. On top of that, our experts will know how to complete the job in line with any local building codes or regulations.
How can I prevent electrical problems from happening in the first place?
Have regular inspections and maintenance done on your systems. This means an electrician can find and identify any potential problems before they have a chance to get worse. In addition to that, try to avoid overloading your circuits, always use quality wiring and equipment, and never try to fix electrical systems yourself.
What should I do if I experience an electrical emergency?
Any electrical emergency such as an outage or fire requires professional help as soon as possible. If you or someone else has been injured as the result of an electrical emergency, seek immediate medical attention.
What is the importance of regular electrical maintenance services?
Having professionals perform a regular electrical check on your systems ensures any potential issues can be identified before they become serious. You'll keep your system safe and reliable, preventing costly repairs that may be needed later down the road. Call (913) 227-4943 or get in touch with us today to learn more.