Home Water Filtration Systems in Kansas City, MO & KS
---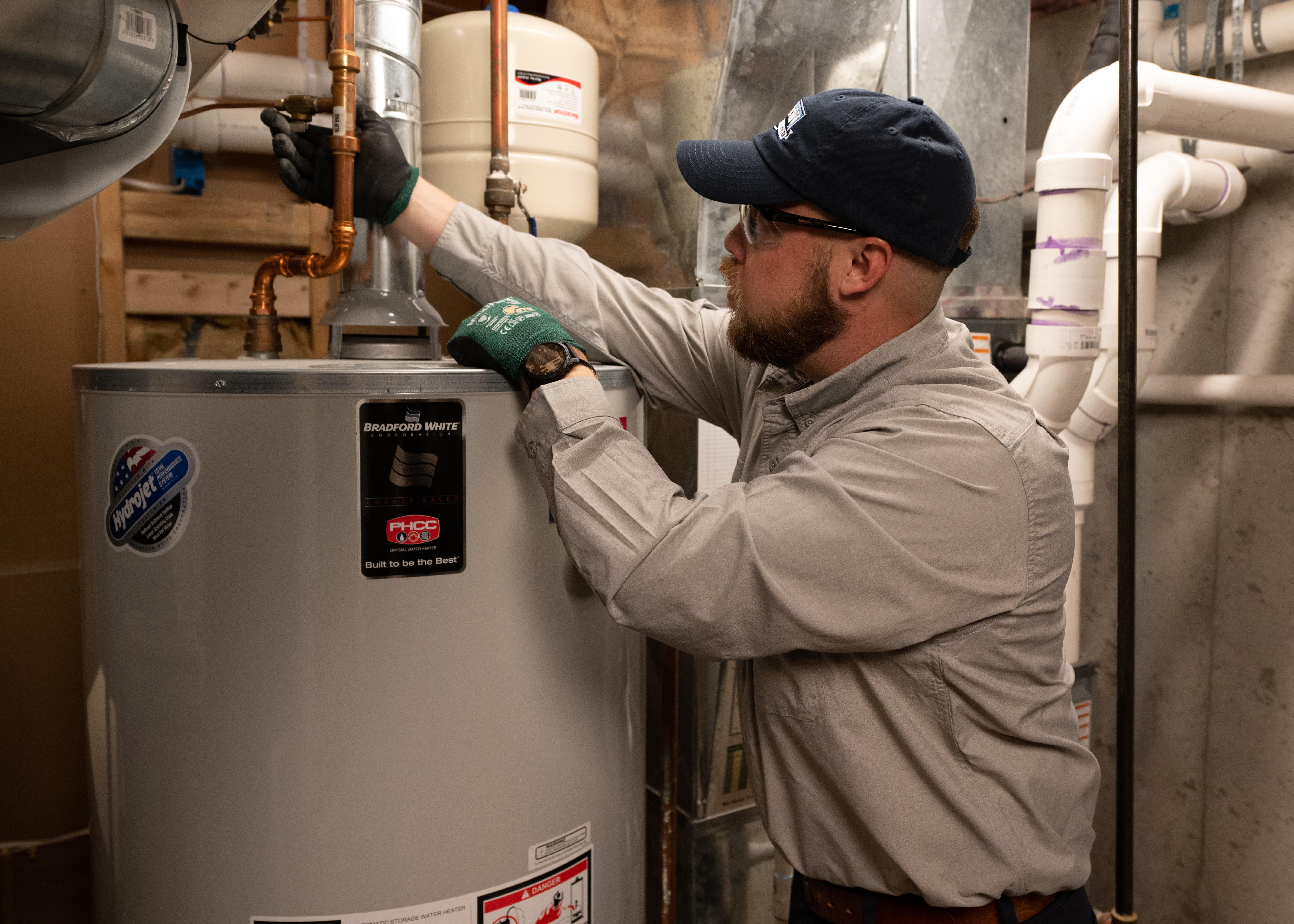 Knowing what's in your drinking water is a concern for many homeowners in Kansas City. You and your home deserve to have a great water filtration system and treatment.
Imagine clean, filtered water throughout your home or just directly to the faucet of your choosing. You wouldn't have to lug those heavy bottles of water around or pollute the environment with small plastic drinking water bottles. Home water filtration systems can save you time and money, all while helping the environment. Plus, our work is backed by incredible guarantees and our customers love us.
Schedule Your Service!
Incredible Water Filtration Systems For Your Home
Regular tap water can contain harmful toxins, bacteria, chlorine and minerals, which is why many people aren't comfortable drinking it. However, there are some good minerals in it, too, so proper water filtration will filter out the bad and retain the good. This leaves clean water that you can enjoy straight from the tap.
There are different water filtration techniques such as microfiltration, ultrafiltration and nanofiltration. Depending on the water and the home, we utilize a variety of water filtration systems to achieve the best possible results.
If you just want your kitchen sink to produce clean water, we can certainly help install the ideal point-of-use (POU) filtration unit. However, more and more homeowners are going with whole-home water filtration systems, otherwise known as point-of-entry (POE) systems. By filtering all the water in your home, the benefits are as clear as the water itself. You will never have to worry about having contaminated water in your home. We install the whole-home filtration system, and then test it and maintain it for optimal water quality.
It starts with a test of your current tap water. Our technicians need to know what contaminants may be in there. That enables us to select and install the ideal filtration system that eliminates the specific contaminants in your water. Our home water filtration systems are customized for performance in your home, working with your plumbing system and your municipal water supply.
Contact us to schedule your service online or to learn more about our in-home water filtration services.
Schedule Your Service!
While there are many add-on products for the home, remembering to change the filters monthly can be a pain. Not to mention many times after you buy something, they stop making the filters. You wouldn't have to worry about that anymore with a Halo Whole House Kansas City Water Treatment System.
Halo Water Systems
The Halo Whole House Water Treatment System is maintenance-free and not only purifies your water, but also conditions it. No need for a water softener when you install this system into your home. It's been certified and tested by the Water Quality Association and is lead-free compliant.
The Halo Whole House Water System solves any hard water problems or chlorine problems you may be having. It's maintenance-free and comes in a variety of sizes to meet your home's needs.
For more information on the Halo Whole House Water Treatment System, give us a call today!
Why Do You Need a Home Water Filtration System?
Just think about how much you use water in your home on a daily basis. Having clean water is essential. But, while having clean drinking water free of contaminants is the most appealing part of installing a whole-home water filtration system, clean water is even more important than you realize.
In the kitchen, you use water to wash your dishes and you may even use it in some of your cooking. You may not drink it straight from the tap, but you are still using it and could possibly ingest those contaminants in one way or the other.
You take a shower every day and maybe sometimes you prefer to relax in a bath. You wash your hands, splash water on your face and brush your teeth with tap water. If your water isn't truly clean, then how clean are you really getting while bathing, washing up or going through your daily dental routines? You'll have much better peace of mind, and science shows you will get cleaner when you have purer water in your home.
Don't forget your washing machine either. How clean are your clothes getting, and is that unfiltered water bad for the clothes you are wearing against your skin every day?
Your current water supply usually isn't anything to panic about. We're just trying to show the benefits of having cleaner water throughout your home. You won't have to worry about any contaminants or "hard water" in your home. You can relax and enjoy fresh, clean water for all of your day-to-day activities.
Call An Expert!
How to Get Home Water Filtration Installed
The first thing we recommend is to have your water tested. It's important to know what kind of toxins and minerals could be in there, and how they may affect your life. Once we have tested the water, we will discuss your home water filtration system options to find a system that is best for you, your family, and your home. We will also discuss your budget and potential financing options so you can truly consider all of your options.
Contact us today to discuss whole-home water filtration and other in-home water filtration services that can improve your health and save you money on bottled water.
Schedule Your Service!