KANSAS CITY AIR CONDITIONER INSTALLATION
---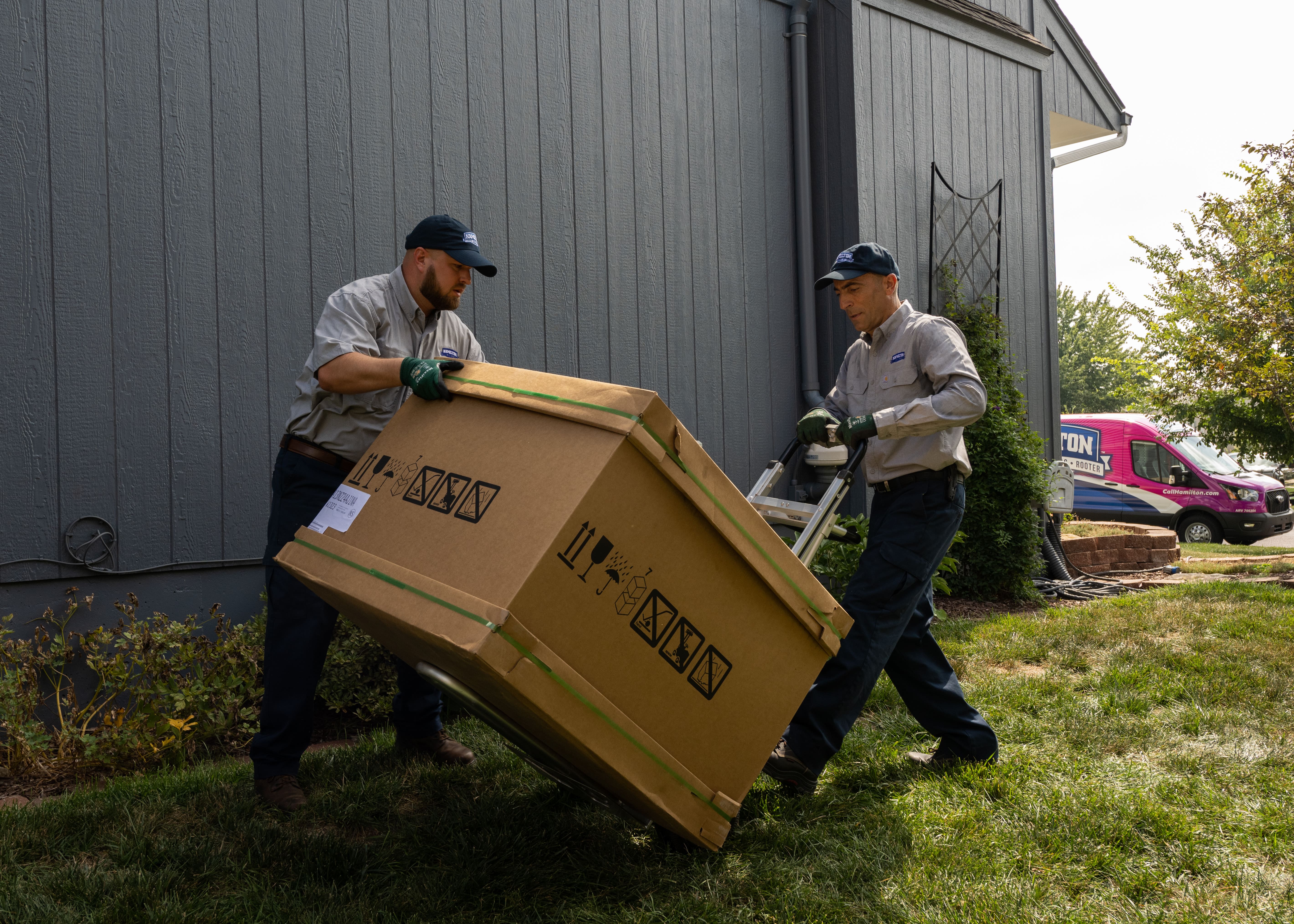 GET A NEW AIR CONDITIONER FOR YOUR HOME
Get the expert air conditioning installation you, your family, and home need. We evaluate your home, your comfort preferences, your budget, we'll even address issues like allergies and indoor air quality in determining which air conditioner perfectly matches your home, your lifestyle and your comfort preferences.
Call for AC Installation!
There are many reasons why homeowners replace their old, inefficient air conditioners. And you probably have a lot of questions. Will I get the right energy-efficient air conditioner to properly cool my home? Will it be installed correctly? Who hauls away the old air conditioning system?
Hamilton will take care of everything to make sure your new air conditioner installation is smooth and trouble-free. We carry a complete line of energy-efficient air conditioners featuring advanced technology to deliver comfort and impressive energy savings. It's one of our best energy saving services.
MAXIMIZE COMFORT AND SAVINGS WITH A NEW AIR CONDITIONER IN KANSAS CITY
The weather in Kansas City can be hot and humid, which creates a challenge for old and worn-out AC equipment. Keeping up with the heat and humidity can make your HVAC system work harder to keep the temperature inside your home comfortable. Not only does it need to cool the air, but it also has to remove enough of the excess moisture in the air to keep it around the recommended humidity level for maximum comfort.
Older units especially have a hard time working in this type of environment. Their lower efficiency can lead to breakdowns, malfunctions and higher utility bills. In addition, they may not be able to prevent the growth of mold and mildew in your ductwork, resulting in indoor air quality problems and potential health risks.
All of this means it's a good idea to call us for expert air conditioning installation in Kansas City. We can match you with a new, high-efficiency system that can meet your needs and keep you and your family comfy even during the hottest summers. Because you'll have the most energy-efficient technology available, you'll also probably save money on your utility bills. Newer models also ensure that you won't have to worry about costly repairs due to breakdowns or malfunctions.
Choosing us as your air conditioning replacement company also means you'll take advantage of the latest advancements in eco-friendly refrigerants and smart features such as programmable thermostats. This means you'll reduce your environmental footprint and reduce your energy consumption.
Choosing Hamilton for air conditioner installation services can also protect your home from the dangers posed by older AC units. Old systems are at a higher risk of causing electrical fires, gas leaks and mold growth. With newer units, safety features such as circuit breakers and modern refrigerants mitigate these dangers so you can have peace of mind every time you operate them.
WILL THERE BE A BIG MESS IN MY HOME?
No. Our Certified Technicians place work mats in your home, wear protective shoe covers and when the work is done, they'll haul away the old unit and completely clean the entire work area.
Not only that – we'll calibrate your new system for comfort and energy savings, explain the features of your new air conditioner and show you how the programmable thermostat works.
We'll follow up to make sure you are 100% satisfied.
EXPERT AIR CONDITIONER INSTALLATION DONE RIGHT
Hamilton is the leading AC replacement company in Kansas City Kansas, Kansas City Missori, and the surrounding areas. Our experienced technicians come to your home with all the tools and experience needed to provide the absolute best service. When you choose to work with us, you can count on receiving the highest levels of expertise and professionalism from start to finish.
To learn more about how we can help with all your heating and cooling needs, call us at Call 913-227-4943 to talk to one of our helpful representatives or schedule a service online today!