Sump Pump Installation in Kansas City, MO & KS
---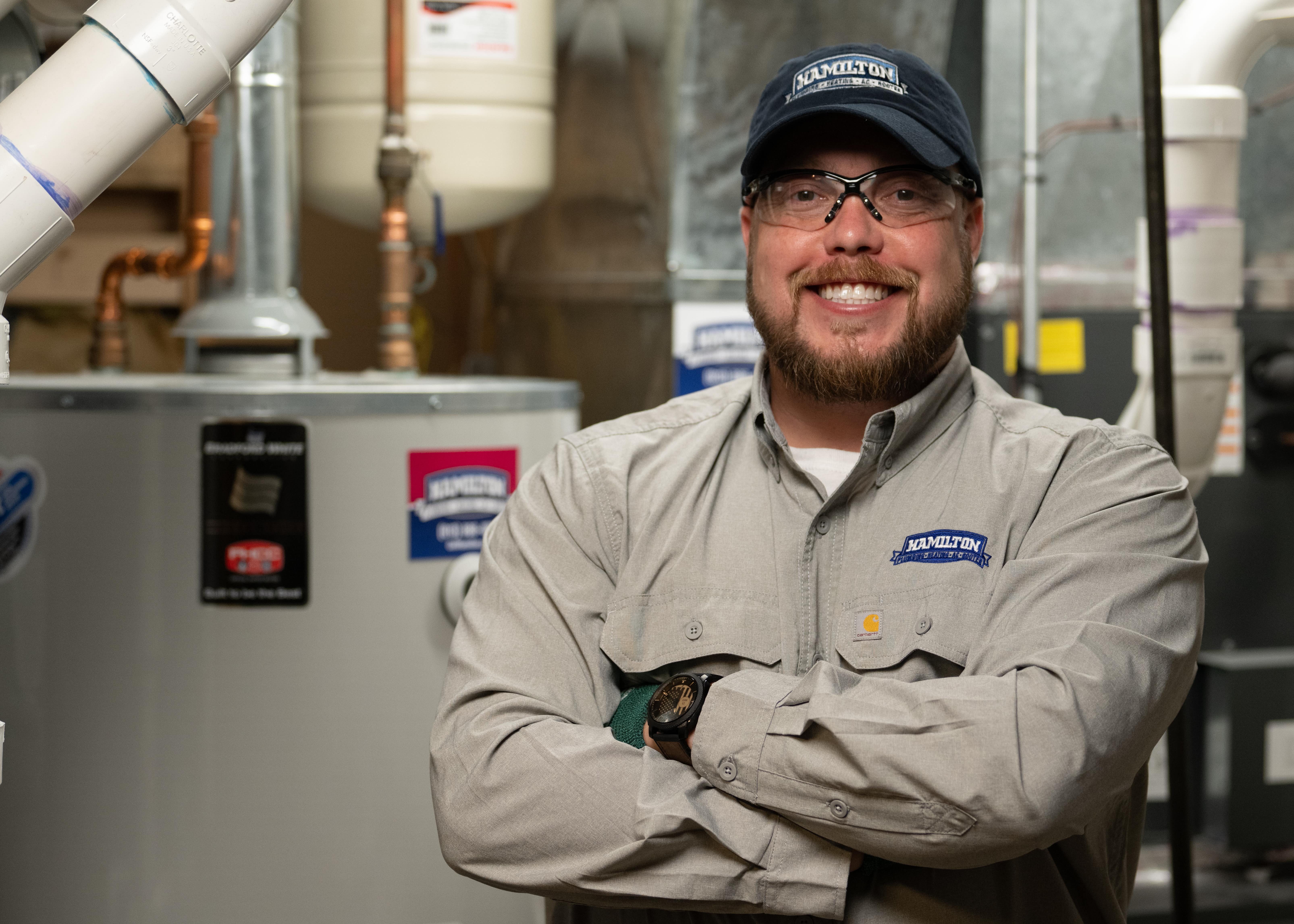 You've heard the horror stories of heavy rains saturating the ground and getting into basements. Maybe you and your home have even lived through one of these Kansas City disasters.
Kansas City sump pump installation and repair can help you be more prepared.
Schedule Your Service!
Why Should I Get a Sump Pump Installed?
Groundwater that gets in your basement from heavy rains or a high water table near your home can be devastating. Water can cause mold, significant property damage, and unsanitary conditions throughout your home.
Remember that cleaning up a wet basement is hard. Preventing water damage is easy. Luckily, there are ways to prevent these problems. Our automatic sump pump systems will reduce the risk of basement flooding by pumping away ground water. We even offer battery backup systems in the event of a power failure.
If you've got a sump pump problem or just want peace of mind knowing that everything is in good working order with your existing sump pump, call us or schedule service with Hamilton today. Our technicians are trained in the latest technology to keep your sump pump operating in top condition.
We will test, repair, or replace your sump pump fast! That's why we're called, 'the local sump pump experts'.
Schedule Your Service!
Our Sump Pump, Drain, and Backflow Preventative Services
Backflow Prevention
Normally, water flows forward from the city water supply system into your home. Backflow is the 'backward flow' into the public water supply. This can be caused by either back pressure or back siphonage of your plumbing system. If water flowing backward contains hazardous chemicals, toxins, or bacteria, this can cause a very unhealthy and even dangerous situation for many people.
Your garden hose is actually the most common cause of backflow. For example, let's say you're watering your garden with a pesticide applicator attached to the hose. Your kids want a snack. While you're inside fixing the snacks, there is a drop in water pressure in the supply system that causes a vacuum. This vacuum can pull the pesticide-laced water into your home.
The next time you or your neighbors turn on a faucet, the water could be laced with toxic chemicals. Water pressure drops are not uncommon, it can happen while a crew repairs a broken water main or firefighters put out a nearby fire.
Clogged Drain Opening Service
You wouldn't believe what we've seen clogging up drains. But, fortunately for you, we've seen it all! So, we know we can unclog your drain.
A clogged drain can occur in the fixture trap, in curved pipes, in the main drain, in pipes below the floor or over the ceiling, and even in the sewer line itself.
We know where to look and how to look for the source of the clogged drain. While you might be tempted to poke a hanger down the sink, chances are you won't find the clog and you will cause more damage.
At Hamilton, our professional drain opening team will get to the source of your clogged drain and open it fast.
Call An Expert!
Maintenance Services
Water Heater Maintenance
Over time, water heaters accumulate rust and sediment that reduce their ability to heat water. Eventually, an unmaintained water heater will operate inefficiently and potentially be damaged beyond repair. This is especially true if you have hard water in your home.
To prevent the premature failure of your water heater, call Hamilton for annual water heater maintenance.
Tankless Water Heater Maintenance
Tankless water heaters are growing in popularity. Although they don't have a tank, they have filters and lines that require regular maintenance to keep them working reliably. Since tankless water heaters are more complex and are more easily damaged if not serviced correctly, we recommend having an experienced plumbing technician from Hamilton service your tankless water heater.
Is My Sump Pump Outdated?
One of the most neglected spaces in any home is the basement. In many cases, this area will go unused, but doesn't have to. With a bit of hard work, you'll be able to use the space in your basement for things like a family room or man cave. One of the biggest issues that you'll face in the Kansas City area is basement flooding in your Kansas City or Missouri home
In order to remove the water entering your basement, you'll need to get a sump pump.
Make sure to hire a professional who offers a warranty to ensure you get the right size for your home. If you already have one or are getting one put in, keeping this sump pump in good shape is easy when following these steps.
Call An Expert!
How Hamilton Can Help You Take Care of Your Sump Pump
Testing your Sump Pump Regularly
The only way you can find out whether or not a sump pump will work when needed is by testing it on a regular basis; especially in the spring. To test the pump, you'll need to pour a bucket of water into the sump pit. Once you've done this, turn the pump on to see if it removes the water you put into the pit. During this process, keep a close eye on the float and check the valve. You want to make sure these parts are moving freely as the water is being pumped out.
Keeping the Sump Pit Clean
Over time, the sump pit that your pump is in will begin to get a bit dirty. Having things like gravel or sand in this pit can restrict the sump pump and make it hard to get rid of water in a hurry. When cleaning the sump pit, you'll also need to take a look at the sump pump discharge line. If there are any obstructions, you will need to move them to ensure the water flows out of the basement as intended.
Backing Up the Sump Pump
Usually, the sump pump in your basement will get the most use during the spring and bad weather situations. During the stormy seasons, you may lose power due to high winds or other forces of nature. Getting a generator backup for your sump pump is the only way you'll be able to keep it running during these weather disasters and keep the water out of your basement. While a generator is a bit of an investment, it will be worth it considering it can help to keep your basement dry.
Basic Homeowner Sump Pump Care
Make sure you are maintaining and testing your sump pump regularly, including cleaning the sump pit to avoid obstructions. A professional can help you with this and other services including getting a preventative generator back up for your sump pump.
Get your sump pump inspected by a professional every few years and remember that eventually, your sump pump will need to be replaced.
Everyone Needs Sump Pump Installation or Repairs Eventually
Another important thing you have to remember is that eventually, your sump pump will need to be replaced. By taking the time to inspect the sump pump on a regular basis, you'll be able to identify problems early on and address them before it's too late. Industry standards recommend getting your sump pump inspected and replaced after about 5-6 years. Replacing the sump pump before it runs out will ensure that your basement stays dry.
The more care you are able to show your sump pump, the easier it will be to keep it running efficiently. Neglecting to maintain a sump pump can lead to flooding issues and a lot of damage being done.
Above all else, lean on Hamilton to help you with your sump pump installation and repair services, or any of our other preventative services that will help you keep your home safe.
We Can Help You and your Family
At Hamilton, we are specialists in backflow prevention and we can perform an evaluation to determine which backflow prevention device is best for your home's plumbing system.
Once our skilled plumber has installed the backflow prevention device in your home, water will be unable to flow back into the public water pipes. The backflow prevention device creates a closed plumbing system, keeping the water you and your family use for cooking, bathing, and drinking from becoming contaminated with bacteria, chemicals, and harmful toxins.
Call Hamilton Plumbing, Heating, A/C & Rooter and install a backflow prevention device today!
Schedule Your Service!