Heating Services in Kansas City, MO & KS
---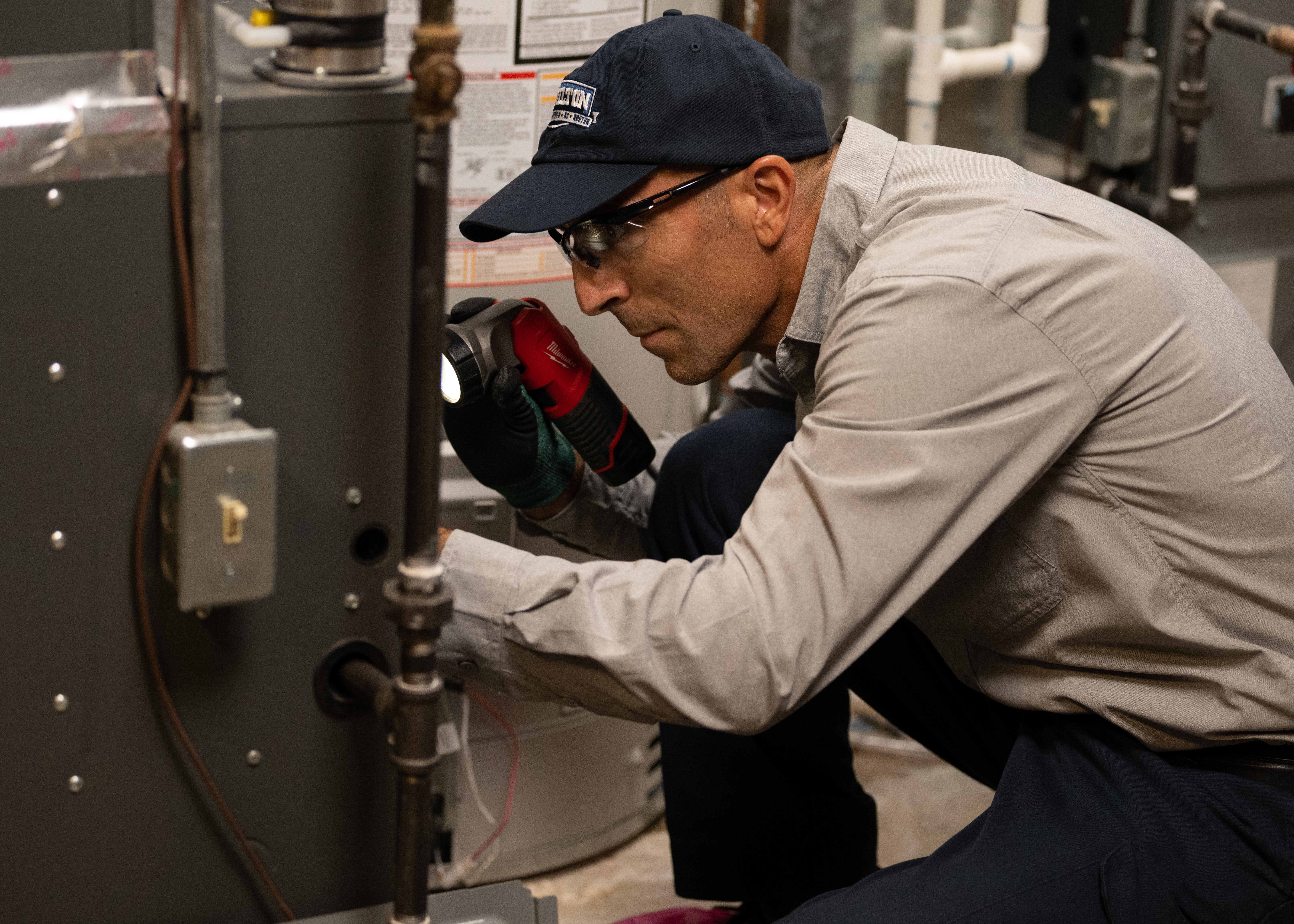 What's more comforting than a warm, cozy house on the coldest winter night?
Kansas City Home Heating
Kansas City winters can be harsh, even downright brutal and we all depend on our furnace
to keep us warm and comfortable. Most of us don't give our heating system a second thought...until it stops working.
No heat? Call Hamilton. We'll respond quickly. Our skilled technicians will arrive with all the tools, materials and experience to service, tune up, or repair your furnace. Our technicians are expertly trained and we service all makes and models.
Why Choose Hamilton
As of the fall of 2023, Hamilton Plumbing, Heating, A/C & Rooter has combined forces with Roger the Plumber. We have over 40 years of experience, and over 90 experienced technicians, plumbers, and electricians to handle just about any home service need you may have. 
Our customers agree that we're a premiere service company: we have over 8,000 five-star reviews from satisfied customers just like you. Plus, all of our work is backed by our Exceptional Service Guarantee. If you're not happy, we will make it right. Guaranteed.
Schedule Your Service
Kansas City Home Heating Services including Furnace Installation, Maintenance & Repair
Time for a new furnace? We'll make sure that you get the right heating system for your home, one that delivers plenty of comfortable consistent heat to every room in your home. Today's technologically advanced heating systems are designed to provide the ultimate in comfort and maximum energy savings.
Our certified technicians will install your new furnace to exacting standards and specifications. It is our goal to provide you and your family with a clean, healthy and quiet energy efficient system. With up to $1,500 in Federal energy tax credits now is the best time to replace your old gas-guzzling furnace.
Hamilton Plumbing, Heating, A/C & Rooter we recommend you have us perform an annual furnace tune up and safety inspection. Our precision tune up will have your heating system ready for winter, operating at peak efficiency and help prevent unexpected breakdowns, we also check for malfunctions that can cause deadly carbon monoxide poisoning.
Heating Repair
There's nothing better than being able to turn on your heater or furnace in the winter. It always feels so cozy to curl up and be surrounded by the pleasant warmth provided by your home's heating system. That is why it is so important to keep your heating system properly maintained, so you can enjoy an ideal performance and efficient energy.
Our Eco-Friendly Service
If you are looking for more eco-friendly and energy-efficient heating solutions, we have the answers. Installing and maintaining greener heating systems is our specialty. We believe in taking care of the environment just as much as we believe in taking care of our customers. What's great about eco-friendly heating systems is that both of those goals can be achieved simultaneously.
Are you aware that over 70% of the energy you use in your home is directly related to your heating, cooling and water heating systems? Wouldn't it be nice to reduce your heater or furnace's energy usage? Just imagine saving a lot more on your energy bills in the winter while also having a greener system that isn't polluting the air with harmful toxins. It is possible and the options are more affordable than you think.
Whether you are looking to install a new heating system such as a heat pump system or you just want to get the best out of your current heater, we can help. We can inspect your current heating system and maximize its energy efficiency. Sometimes minor adjustments, simple fixes and routine maintenance will do wonders for the performance of a heater. No matter what, our experienced HVAC technicians are happy to provide their expert insight. There are ways to make just about any heating system more eco-friendly and energy efficient.
Importance of Routine HVAC Maintenance
In order to keep your heating and air conditioning systems running at peak efficiency, it is vital to have regular maintenance performed by professionals. We offer routine HVAC maintenance services along with any installation and repair services you require.
It is important to maintain your HVAC system throughout the year. This ensures that it is working properly and maintaining the best possible energy efficiency. It also saves you money over time and it is better for the environment when your system is not wasting energy. Heating systems especially can produce poor air quality and even carbon monoxide if not properly maintained, so you definitely want to have your entire system inspected and tested at least once a year. Your family's safety is our biggest concern.
Routine maintenance will also extend the lifespan of your HVAC equipment and prevent costly breakdowns. We take care of the maintenance and repairs before they become major problems. Standard HVAC maintenance services will include measures such as replacing filters, adjusting thermostats, cleaning vents, checking ducts, testing air quality and cleaning internal components.
Our priority is to keep your heater/furnace and overall HVAC system performing at optimum efficiency. What you spend on preventative maintenance will usually be saved over time and you can rest assured that your system is safe for you and your family. Better energy efficiency leads to lower energy bills. You will notice the difference when you have a fine-tuned HVAC system working in your home.
If you need HVAC maintenance or are interested in installing a new heating system that is more eco-friendly and energy efficient, contact us today. We'll walk you through all the options, perform a thorough in-home inspection and help you achieve the ideal results.
Schedule Your Heating Service!