HVAC REPAIR IN KANSAS CITY
---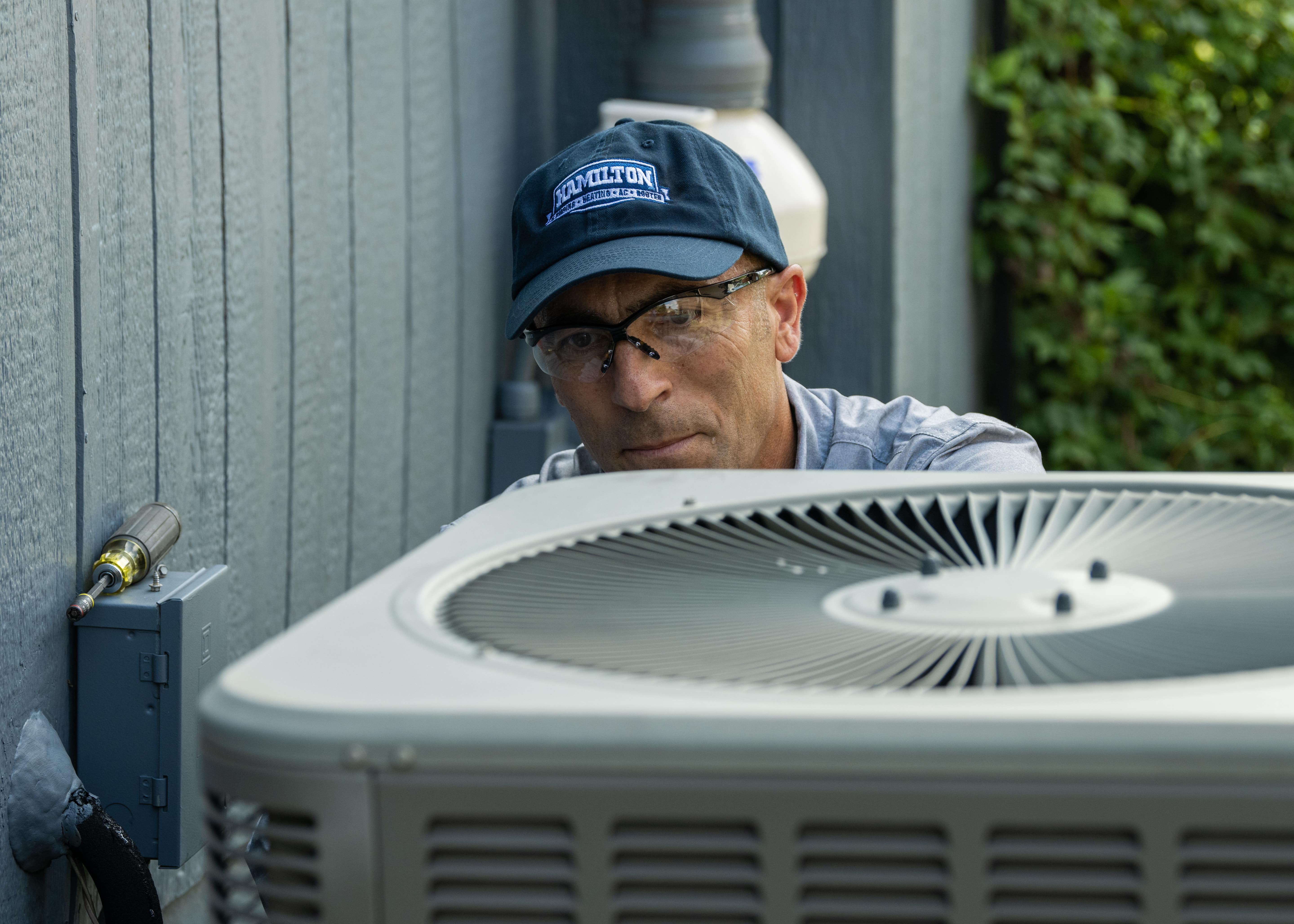 Searching for reliable professional HVAC repair services? Look no further than Hamilton! Our team of highly trained technicians can offer you the best in home comfort. Plus, as an award-winning HVAC repair company with no-surprise pricing, you can rest assured you're getting the best service without breaking the bank.
Schedule Your HVAC Repair Today!
THE CLIMATE IN KANSAS CITY MAKES PROPER HVAC MAINTENANCE ESSENTIAL
Characterized by hot, humid summers and cold, snowy winters, the weather in Kansas City can put quite the strain on your HVAC system. The additional exertion caused by these conditions in turn increases the likelihood of the unit breaking down. To stay ahead of system malfunction or failure, you should be aware of potentially detrimental weather and the damage it could cause.
For instance, the high temperatures and humidity levels over the summer months could have your system working overtime. This constant use may lead to excess wear and tear. As moisture accumulates in the ducts, so too can mold. All these troubles add extra stress to the system and may lead to damage if left unaddressed.
Wintertime brings its own stressors to the system. From November to March, your HVAC system is tasked with maintaining a comfy temperature inside all while the outdoor conditions fluctuate from freezing to cool. Keeping pace with the weather requires constant switching between heating and cooling modes, causing added strain to the system.
When all these factors are taken into consideration, it's easy to see why performing regular HVAC maintenance and addressing HVAC repair concerns quickly is so important. Not to worry! Our crew of Kansas City heating and cooling repair specialists are here to ensure your system is running smoothly.
COMMON WARNING SIGNS YOUR HVAC SYSTEM NEEDS REPAIRS
Every so often, you may notice signs that your HVAC system needs to be checked out. Contact a professional HVAC technician to inspect the system, diagnose the issue and point you in the right direction to get it repaired. If ignored, these signs could indicate more serious problems down the road.
Common warning signs you need furnace repair or air conditioner repair include:
Short Cycling
Have you noticed your system is turning off and back on frequently? Known as short cycling, this unusual behavior indicates there's an issue with the thermostat, the system has a refrigerant leak, or there is a malfunctioning fan motor. Contact a professional immediately if this problem persists.
Strange Noises
While the types of sound may vary, strange noises are often the first sign something is not right. Whether it's an odd clanging, screeching, or whistling, these sounds should be investigated quickly. They could indicate a component has come loose or has been damaged. If you hear anything that sounds like it might be out of the ordinary, give us a call and we'll check it out for you.
Uneven heating or cooling
Are some rooms too cold while others are too hot? Such uneven temperatures and decreased air flow may be a sign that your HVAC system isn't working efficiently. This could be due to an issue with your thermostat, blower fan or ductwork. If you're wondering why your house isn't heating or cooling evenly, give us a call.
Poor Air Quality
At times, a clog, dirty evaporator coil, or mold problem in the ductwork may cause an unpleasant odor or the air to feel stale or humid. Such issues need to be addressed quickly before they impact the entire system. Our technicians can pinpoint these issues and take care of them before they end up costing you more.
REACH OUT TO US TODAY
Here at Hamilton, we've been delivering exceptional HVAC repair in Kansas City since 1983. We've proudly served our residential and commercial neighbors with reliable heating and cooling solutions all while delivering the highest level of customer satisfaction.
Give us a call to schedule your service today!