DOES YOUR KANSAS CITY SUMP PUMP NEED TO BE REPLACED?
August 21, 2023
---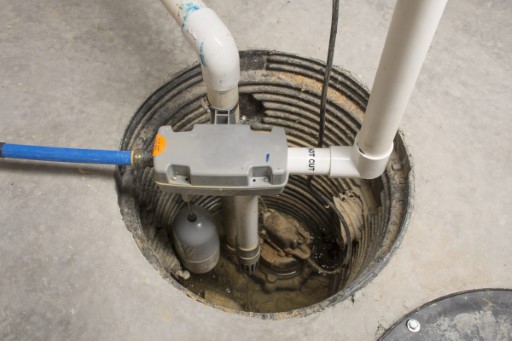 Hamilton Plumbing Heating A/C Rooter offers thorough and expedient Kansas City sump pump service for residential customers. Sump pumps are like other motorized equipment, which only last so long before they require replacement.
How do you know when to do this? We'll give advice on that and offer our professional assistance for this important task.
What is a Sump Pump?
Your sump pump protects your home from flooding by pumping water from out of your basement into a natural pit or basin outside. This is of critical importance to Kansas City homeowners since our area has this problem worse than most areas in the U.S. You might not think much of it until storm season arrives, and you can't keep water out of your basement.
Your typical submersible pump might cost you about $400, not including installation. If you're in a flood-prone area, there are higher-end models that run for about $1,000 and are capable of handling over 10,000 gallons per hour of water. The typical life expectancy for sumps ranges from seven to 10 years.
When You Should Replace Your Kansas City Sump Pump
Keep an eye out for these warning signs you should replace your sump pump.
It constantly cycles on and off time. This often means you've filled the basin and need a plumber to install a larger one. If you let this last too long, it'll wear out the motor and break prematurely.

Then again, sometimes the opposite happens as well. If your sump pump runs nonstop, it might mean there is too much water for it to handle.

You hear louder humming noises. Much like your refrigerator, there shouldn't be a noisy, unceasing hum all the time. It usually means a motor or some other component is about to expire.
Sump Pump Replacement: Better Left to the Pros
When you notice those symptoms, call a plumber for help. There are a lot of videos and tutorials that suggest doing sump replacement by yourself, but there are many ways to do it incorrectly. In our experience, this leads to greater problems and greater water intrusion.
Even if you can handle taking apart and reassembling a pump, you should work with a plumber who knows the ins and outs of the latest technology. Plus, if the pump breaks, and you suffer a terrible flood, you'll literally be up to your knees (or at least ankles) in water. Don't hesitate to seek help when you're in a dire plumbing predicament like that.
As a homeowner, you can test your sump pump to help extend its life expectancy. This involves checking the electrical components for damage, inspecting for blockage on the exit side, and running water through it to make sure it works properly. Learn more about this by reviewing our article on keeping your sump pump ready for spring and summer storms.
Contact Hamilton When You Need to Replace Your Kansas City Sump Pump
Hamilton Plumbing Heating A/C Rooter can help you replace and install any sump pump hardware. This includes pedestal sump pumps, submersible pumps, battery-operated pumps, and more.
We provide fast, punctual, and reliable service to residential clients in any neighborhood in Kansas City. In addition to sump pump replacement, you can call us for other plumbing issues such as clogged pipes, water heater maintenance, leaky pipes, retrofitting old fixtures, and much more. Our business has an A+ accreditation with the Better Business Bureau (BBB), and numerous other testimonials and endorsements.
Contact us online or call us today at 913-227-4943 for fast and reliable Kansas City sump pump replacement service!
Last Updated: August 22, 2023